History of Growth
Panama Transfer was founded in 1957 by Panama, Iowa, brothers Jim and Don Kloewer. In the early years, the company's business consisted of pickup and delivery of freight to and from Omaha, Neb. to seven communities in Western Iowa.
In 1963, Don was killed in an auto accident and Jim and his wife, Rita, assumed ownership of the company, building a successful firm over the next two decades.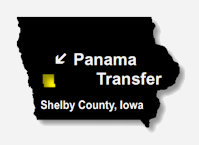 Deregulation initially curtailed growth
With freight industry deregulation in 1980, the decline of many freight companies began throughout the U.S. Companies not financially sound were out of business; which allowed bigger freight companies to expand into rural markets.
Panama Iowa TerminalPanama Transfer's business slowly declined over the next few years due to increased competition and the introduction of new carriers to the area. As the companies' growth slowed, layoffs took place and in 1988, they employed five people down from a high of 20
New management brought growth in the late 80's
In 1988, Mark Crall (son-in-law) was hired to manage company sales and that same year Jim's son, Dean, took over the operational duties. The company began to grow at a substantial rate and revenues increased from 10 to 30% in succeeding years causing them to outgrow their facilities.
Panama - Market Expansions in Western Iowa
In 1991, land was purchased in the Panama Industrial Park for its new 12-door terminal facility.

In 1996, 12 additional doors were added making it a 24-door terminal.

Repair FacilityIn 1999, 12 additional doors were added making it a 36-door terminal.

In 2001, a new 10-door state-of-the-art repair and service facility / shops building was constructed to keep their tractors and trailers operating at peek efficiency. The building also features a fully-automated wash bay for cleaning the tractors / trailers allowing them to maintain a strong professional image as their vehicles drove down the road.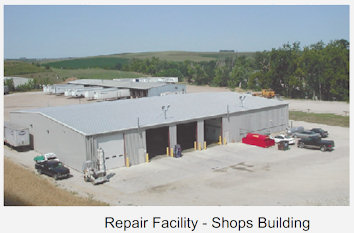 Eldora - Market Expansion in NE Iowa
In 1998, a 7-door terminal was added to serve Northeast Iowa and was increased to a 10-door terminal in 2000 until 2002 when the Wellsburg terminal was built.
Richland - Market Expansion into SE Iowa
In the fall of 1998, the company opened a 4 door terminal in Richland, Iowa to serve Southeast Iowa.

In the fall of 2004 a new heated 10,500 sq. ft. 24-door terminal along with an office and sales office was constructed. It became operational December 5, 2004.
Sioux Falls, SD - Market Expansion
In April of 2001, the company opened the Sioux Falls location with a new heated 4-door terminal with eight additional employees.

In the fall of 2004, the company moved into a new state-of-the-art heated 10-door terminal facility with sales office attached.

In the fall of 2010, the company purchased a 13-door facility here.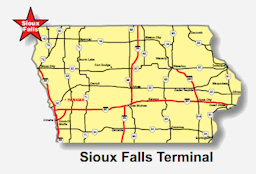 Wellsburg - Market Expansion in NW Iowa
In 2002 they completed construction of a 4,500 sq. ft. 12 door terminal. This resulted in the closing of the smaller Eldora terminal and allowed eight drivers in Wellsburg to save 40 minutes of delivery time daily as they accessed the new four lane U.S. Hwy 20.

In 2004, they added 12 more terminal doors (totaling 24 doors) as well as built a sales office for the 10,500 sq. ft. facility.
Hawkeye - Market Expansion in NE Iowa
In 2012 they expanded in Northeast Iowa to offer better regional service with a new four-door satellite terminal that allows them to make earlier pickups and later deliveries.